Mental Health First Aid Training
Mental Health First Aid is an 8-hour course that teaches you how to help someone who is developing a mental health problem or experiencing a mental health crisis. The training helps you identify, understand, and respond to signs of addictions and mental illnesses.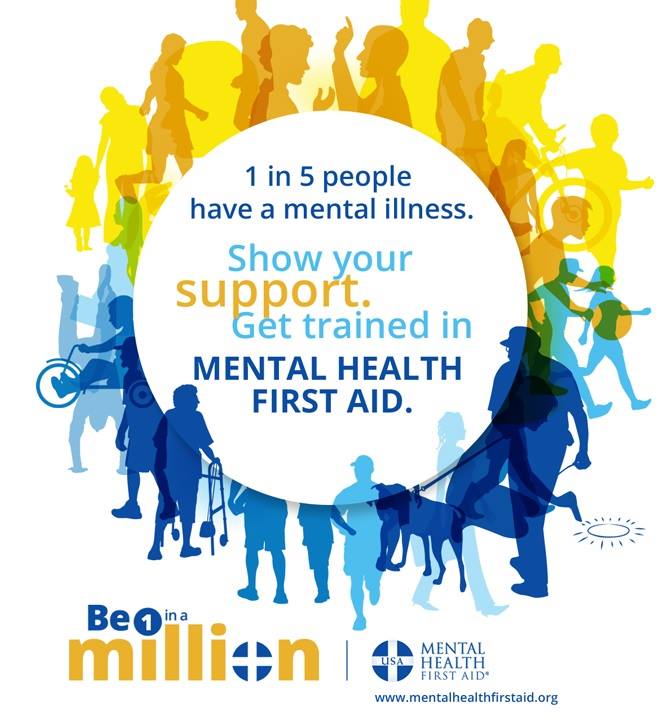 How Training Furthers the Kansas MCH 5-Year Action Plan
Many of MCH's Priorities and Objectives could be furthered with Mental Health First Aid training.
Priority 2: Developmentally appropriate care and services are provided across the lifespan
Priority 4: Communities and providers support physical, social and emotional health
Priority 5: Professionals have the knowledge and skills to address the needs of maternal and child health populations
Priority 6: Services are comprehensive and coordinated across systems and providers
Priority 7: Information is available to support informed health decisions and choices
What You Learn
Just as CPR helps you assist an individual having a heart attack, Mental Health First Aid helps you assist someone experiencing a mental health or substance use-related crisis. In the Mental Health First Aid course, you learn risk factors and warning signs for mental health and addiction concerns, strategies for how to help someone in both crisis and non-crisis situations, and where to turn for help.
Topics: Depression & mood disorders, Anxiety disorder, Trauma, Psychosis, Substance Use disorders.
Course Types
Adult: The adult Mental Health First Aid course is appropriate for anyone age 18 and older who wants to learn how to help a person who may be experiencing a mental health related crisis or problem.

Youth: The youth Mental Health First Aid course is primarily intended for adults to learn how to help young people experiencing mental health challenges or crises. It reviews the unique risk factors and warning signs of mental health problems in adolescents ages 12-18 and emphasizes the importance of early intervention.
Page information provided by Mental Health First Aid USA, an organization managed by National Council for Behavioral Health and Missouri Department of Mental Health.